Since I posted my first blog post on Nerdy enamel pins and where to find them, lots has changed. Not just generally in my life, but also there's a heck load of new pins on the market as their popularity has BOOMED. Here are just a few of my favourites and a few on my wishlist!
Hamster Pin from Tofu Cute
Okay, so I might be a little bit obsessed with hamsters since my little girl, Penny, came into my life. She's soooo damn cuuute *insert crying face* and so I wanted to get a pin that reminded me of her while I was out and about. You can get it from the cutest store I've EVER found – TofuCute.
Infinity Gauntlet Pin by Atomic Pins
I have forever got nerdy pins from these guys on my wishlist – they're all for the TRUE nerdy pin badge collector. Their stuff is amazing, (like this incredibly detailed Infinity Gauntlet) but you'll pay a little more for it. Oh my gosh, also they have a full Labyrinth collection! One of my all-time favourite cult classics!
So this nerdy pin (in my header image) originally came from a Loot crate and so it was limited edition but since then, it somehow made it's way into my favourite geek nostalgia store – Fantayzia! And then from there, made it's way to me of course, because I just love all things D&D!
I was lucky enough to interview Aaron – the man behind Coventry's pin badge club, at the start of his badge series! I saw the latest pin for May and just HAD to buy it- it's great to geek out about your city! I've almost got the whole series of Coventry pin badges!
Hodor Pin by Khumba Pins
You know you've got a rep for liking a fandom when your local bookshop owner (and good friend) gets you a Hodor Birthday card, and Hodor Pin. And signs the card "Hodor, Hodor Hodor. Hodor x" If you're as into classic Game of Thrones as I am, you might want to consider one of these epic pins! Or you might want to read my previous post about my trip to some of the Season 1 film locations!
I fell in love with this pin when I saw it (you guessed it) on Instagram. I love the use of the chain to symbolise the noodles and ugh, I've been looking at it over and over… you know it's my birthday soon, right?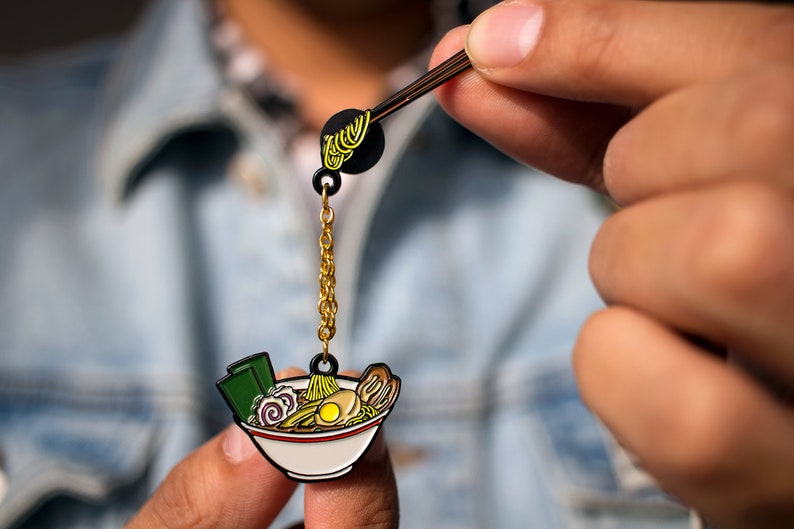 Tamagotchi & Game Boy Pins from Vintagemlife
I am all for 90's nostalgia so I was super happy when I saw these cute little nerdy pins from Miriam on Instagram! I just HAD to get them there and then and to be honest I have to avoid her shop now to stop me spending every penny I have on more beautiful little 90's pins!
Hope this helps with your nerdy pin wish-lists! Stay up to date with all my nerdy content by signing up to my newsletter now!