Since bubble tea first made it's way to the UK, it's become more and more popular every year. It's been something I've loved to drink, learned about and created for quite a few years now. It's even had the power to bring me closer to my community and my friends! So let's launch into some bubble tea gift ideas and see what magic boba can bring!
1. Bath Set from Bubble T Cosmetics
My friend bought me one of these for my birthday and it actually inspired this post while I was musing in the bath. This really cute set smells absolutely amazing as soon as you open the box and includes a body lotion, bath bombs, bath confetti, bath oils and these really cool little bath tea-bags that I'd never seen before! All the products are cruelty-free and infused with tea!
2. Bubble Tea Board Game
"Bubble Tea" the board game is (currently) only available for pre-order as it's so popular and has sold out, but that's for good reason. This is a super fun game requiring quick reactions, where you try to build the right patterns in your bubble tea cups the fastest. It comes with a tiny bubble tea shaker and the cutest designs! I played this in a board game cafe in Shrewsbury with my friends, and… I was not good at it.
Related post: Nerdy Board Game Cafe, Shrewsbury
3. Tickets to a Masterclass
My good friends at my local bubble tea shop, Bubble Boba, invited me to a bubble tea master-class at their shop, where I got to create my own flavours! I wrote a full report on what it was like to go, but I can tell you here for sure, I learned so much about bubble tea, how it's made, where it came from and so much more about tea itself! I'd highly recommend going (once it's safe to do so!)
4. Bubble Tea Themed Stickers and Pins
You can get themed stickers and pins from so many places as there are so many amazing creators out there. Just do a quick search and grab some cute stuff so your bubble tea loving friend/ family member can represent! Here are some buying tips:
Try to buy from the artist directly where possible as this will mean they get the biggest cut of the money.
If you do go to places like Etsy / RedBubble to get your stickers and pins, be sure to follow the artist on Instagram too.
Try not to buy from AliExpress or Wish who will steal designs and the money does not support the creative industry. (Check out this example of the quality difference too!)
5. Wide Metal Straws
Bubble tea straws are always a little wider than normal straws (to let the boba up the straw!). Because of this, people need specific straws that you can only really get when purchasing bubble tea. To help the environment, gift the bubble tea enthusiast a metal bubble tea straw so that they don't need reusable ones! They're super cheap and don't cost the world! (You could even go further and get them a reusable cup too.)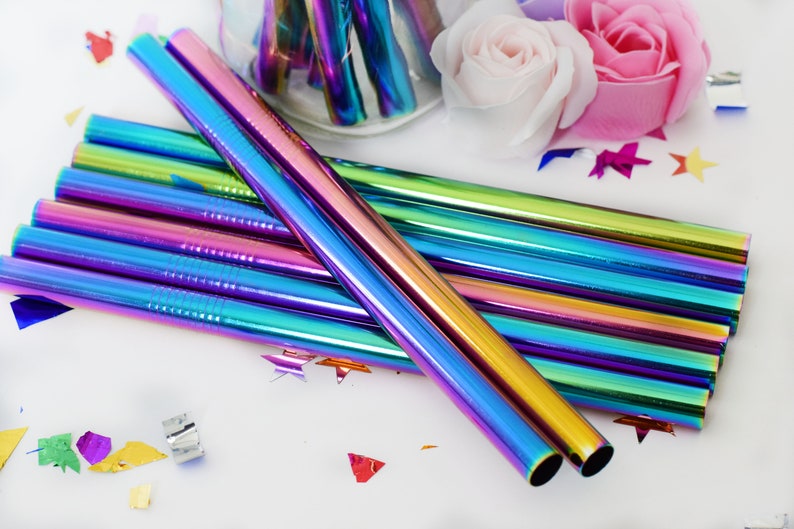 6. Pearl Boba Tea Light
I absolutely love Firebox and their gifts. They're completely out of the ordinary and so when searching for gift ideas for this post I decided to check them out. They did not disappoint – how CUTE is this Boba Nightlight? It's available for pre-order at the moment, but fingers crossed it'll be available soon!
7. A Make-from-Home Kit
I happen to be fiercely loyal to my local tea shop! So when lock-down hit they made me a custom kit so I could have a month's worth of bubble tea while they were closed! Phew! I got my own personal concoction "8-Bit Brew" ingredients as it's exclusive to Coventry Geeks!
They should have kits very soon, but in the meantime, I've been looking at some really cool looking kits if you fancy giving bubble tea making a go. MeeCha.com have one set in particular that caught my eye, which has a variety of flavours in either a milky or fruity box set, so if you're looking to experiment that could be the one for you!
Love Boba and enjoyed these Bubble Tea Gifts? Check out these other blog posts that might brighten your day!
How to make Halloween Apple Pie Bubble Tea
Visiting Gudetama Cafe, Brighton