Ever wondered what to get for your friend who is into Dungeons and Dragons? Once I started playing D'n'D it totally changed my life in so many ways! I've seen so much love for the game across the internet and so I thought I'd pick my selection of the best Dungeons and Dragons Gifts!
I first saw these at Stratford Comic Con and LOVED their cute little D'n'D designs! Being quite new to D'n'D generally, I hadn't come across some of the monsters (and now I am quite scared of that gelatinous cube…) but I had seen an owl-bear in my last session; I just HAD to have the pin!
Save a Cleric Pin by Atomic Pins
How many of you have been saved by a potion? Brought back from almost certain death by that lovely Cleric friend who cast a healing spell on you at the last second. I have… countless times. My dungeonsona likes getting into trouble!
When me and my friends play, the Sass and Sarcasm levels are too damn high! I bought one of these mugs for a friend recently because he just couldn't stop running his mouth (in a nice way!)
Custom Mini by Bearded Brushstrokes
I was so happy when my good friend Mr Brushstrokes offered to make me a custom mini for my first dungeonsona – a rogue Wood-Elf called Regan. The quality of the paint-work is incredible considering the size of the model, and he even custom- made me a short bow! (You can see it at the top of the page!)
Potion of Healing Necklace by CasPollux
Another little potion themed gift for the healer in your life! May it help you in your time of need! CasPollux were kind enough to give my followers 15% this year using the exclusive code INTOTHEETHER – Go get em'!
My friend bought me these as a gift myself, and they were SO lovely to receive. The detail on the wood is brilliant and I loved the colours! They're available in lots of colours and are super cute!
I absolutely love Qwertee for the design and quality of the t-shirts! I have way too many now… so I bought it for my DM for his birthday! You'll probably recognise it from the post about his D'n'D tips! You can also get this design in enamel pin form from Atomic Pins!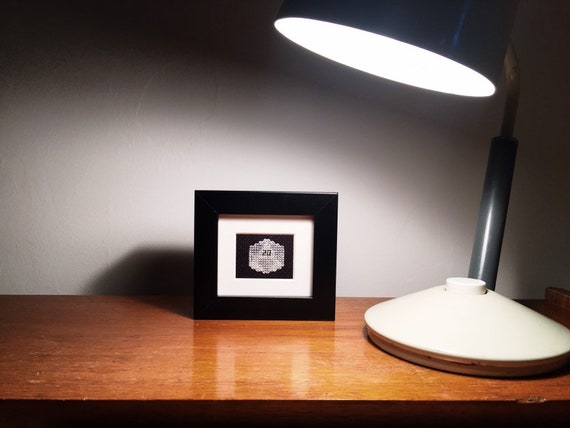 Another lovely find from Stratford Comic Con! I loved the little retro cross stitch kits from Bright Light Stitch Co. and decided to ask for a custom make of a D20 kit! I love this and just had to have a go straight away! I'm not the best at cross-stitch but even I enjoyed this!
AC Beanie Hat by Atomic Pins
I absolutely LOVE this question… It's a great setup for "Does a 25 hit you?" Usually the answer is yes… you damn well know it does! My DM takes small pleasures in making us all groan in exasperation when we fail at doing epic things.
And if all else fails… just go for a new dice set!
So there you have it! My Top 9 Dungeons and Dragons Gifts! There is so much great stuff out there that it was so hard to pick! It seems that we nerds can be very creative too. I can't wait to get more merch myself!