Now that a few weeks of lockdown have passed, I know what you're all thinking.
"What cooperative video games can I play with my partner/family that will make us even more annoyed with one another?"
Well, have no fear! Here are my top 7 co-op Steam games that will leave you screaming at each other.
Overcooked / Overcooked 2
What starts out as a seemingly easy and super cute game where you have to calmly make dishes together in a restaurant, quickly becomes comparable to Ramsay's Hell's Kitchen, as you take on the roles of chefs and scream at one another to pass an onion.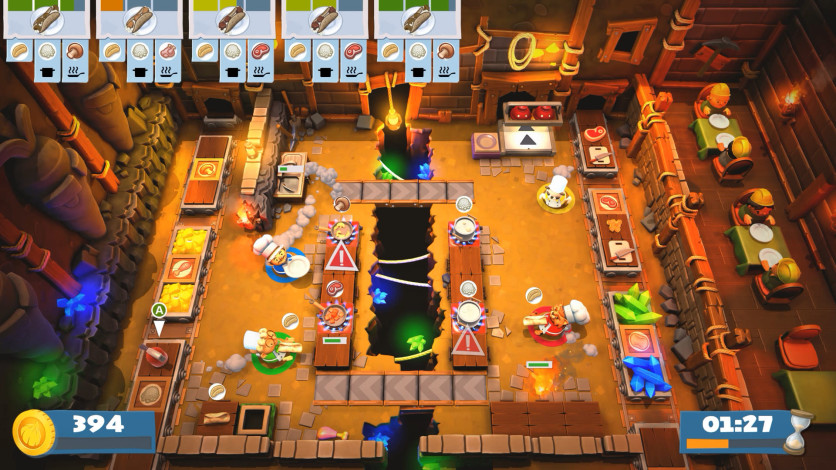 Portal 2 (Co-Op Mode)
You know one thing I can't seem to grasp? Well, it's really important in Portal 2 otherwise you end up… TIMING… just being a little bit too late with your shot and then you end up really confused and completely not where you need to be. Portal 2 Co-Op requires some seriously good timing and spacial awareness skills that I just don't have – much to the disdain of my robot partner.
Don't Starve Together
Playing as a multitude of characters, you have one goal – survive as long as possible. In this randomly generated, barren landscape you play as hunters and gatherers, trying to find all you can and build a base to survive the more challenging climes. This game can eat up hours…
When does it get annoying? About "Day 30" (4 hours in) when one of your party decides to yeet themselves into a nest of spiders AGAIN and you're right back at square one.
Left 4 Dead 2
A typical zombie shooter but somehow one of my most played co-op games… What I enjoy most about this game is that it punishes you if you don't play well as part of a team. So when your son/mum/sister decides that the party is going too slow for them, they could get penalised for not sticking with their comrades! It makes for many a smug moment and many a swarm of zombies.
Keep Talking and Nobody Explodes
This is actually an incredible co-op game, which will really test your ability to communicate, as one of you can only see a bomb and the other can only see the instructions to defuse it. My friend of 15 years and I played this and we absolutely bossed it. Maybe because we'd already been used to talking to one another in secret codes, so this was a walk in the park… plus we only panicked a TEENY bit. Playing this with anyone who can't read/follow instructions though? Prepare to panic and explode!
Octodad: Dadliest Catch
This game is incredibly frustrating even in single player mode. You control the arms and legs of an octopus (who can be seen flying gracefully through the air in my cover image). In game, you pretend to be a part of a human family with the aim of not getting found out to be an octopus. The controls are so different to anything else I've played, so add in another person also struggling to battle with controlling a single arm and leg and you've got a recipe for perfect disaster.
Push Me Pull You
THIS. DAMN. GAME. Another one with a slightly awkward control system, this game actually requires you to work together to push and pull another couple, sumo style out of the ring / take the ball from them. The twist is you're playing as a double headed worm and you control each of the heads.
Of course, the thing to take away from this post is that mostly ALL co-op games will end up with you fighting with your friends and family – almost as much as competitive ones! But the best part about all these games is that they're LOADS of fun and I've lost at least a few hours to all of them.
Thanks for reading! Like this post? Check out my post on My Top 9 Video Games of all time.