As you may have seen previously, I did a quick review of 90s fads and playground games which may or may not have withstood the test of time. I felt so much love and nostalgia that the post at the time ended up being huge! So much so that I needed to split it into parts, which I have just got round to posting so… onto part 2, TV and Tech!
TV
Saved by the Bell – I tried to watch Saved by the Bell recently and my god, it does not hold up! A lot of it is super cringe-inducing and their attitudes towards women are like… eek. Nope.
VERDICT: SHOULD NEVER RETURN (except for that theme tune, we can allow that.)
Kenan and Kel – Who loves ORANGE SODA? And other such nonsense… It's good old slapstick comedy and while being very silly, is totally harmless and just a bit of fun. Perhaps it should come back for the nostalgia factor… I think from what I remember, they're both still pretty funny.
VERDICT: SHOULD COME BACK.
Fresh Prince of Bel-air – Despite the epic 90s shell suits, this does actually hold up if you can get past the whole canned laughter thing that all these programs seemed to have. Seeing as Will Smith is constantly still around and reminding us of this program and the 90s revamped clothing everywhere.
VERDICT: THE LEGACY REMAINS
Cartoon Network – I know this hasn't really died as such because there are still some AWESOME shows still there (Here's looking at you Adventure Time.) But overall I'd say Cartoon Network just isn't what it used to be. Remember how terrifying Courage the Cowardly Dog was? How much utter nonsense came from Cow and Chicken and Dexter's Lab? Bring those guys back and I'll get a Sky subscription just to watch it…
VERDICT: THE LEGACY REMAINS BUT… SOME STUFF SHOULD RETURN?
Technology
Walkman – Doesn't everyone want to listen to their music from a device where you have to keep level or you get an H- D- CH- BSCH. …huh. Maybe not.
VERDICT: SHOULD NEVER RETURN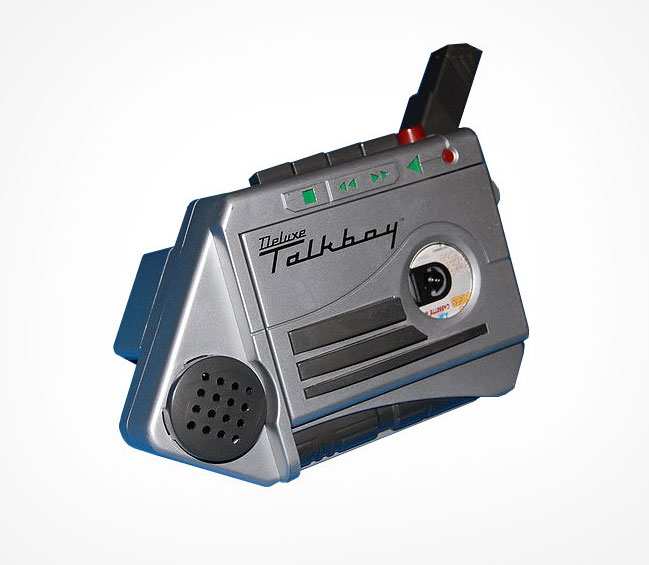 Talk Boys (and Talk Girls) – These hand-held voice recorders, made famous by Home Alone 2, let you change your voice by playing back the cassette tape slightly faster or slower. Unfortunately, in the last 20 years, we developed the tech to do this on our phones so perhaps these are now redundant. Not to mention they use tapes. But the spirit remains!
VERDICT: THE LEGACY REMAINS
Fake Pets – AIBO, Furby… we all had a cyber-pet that we accidentally "killed". They were either endlessly hard work or just really annoying! Also, Furby's sound like demons when they start to run out of batteries…I speak from horrific experience. So I am going to say something controversial…
VERDICT: SHOULD NEVER RETURN
Edit: Tamagotchis are fun. Shut up past me.
There are SO many things I could include here but I am trying to keep it to just the things that were significant to me as a kid! So do you agree with me here?
What 90s fads do you feel need to come back from the 90's? Or should never have existed in the first place?
Until Next Time
Amy