By now I probably don't need to tell you guys, I am a Ravenclaw… I've said it so many times before (but I am just so proud of it!) I try to represent wherever I can – hosting Harry Potter events, attending afternoon teas and even starting a Harry Potter discussion group (SOON).
When I realised that Primark was having a Harry Potter relaunch I got super excited and headed off in search of some Ravenclaw goodies. Alas, although there were so many Hogwarts, HP and Quidditch related things, all I could find was this measly tea-towel that was Ravenclaw themed… (Although of course I bought it anyway).
Ravenclaws, represent!
Ravenclaw (and Hufflepuff for that matter) were SO underrepresented! I settled on some Hogwarts and Qudditch themed stuff but then I thought to myself… There MUST be more out there! So here is my comprehensive list of the 10 best gifts to buy Ravenclaws. (Hint Hint…)
1. Ravenclaw Christmas Decorations
I needed to include at least ONE thing from the Studio Tour in my Ravenclaw goodies (even if the official merch is SUPER over-priced). I've had this Ravenclaw bauble for about… 4 years now. It's up all year round and moves to the tree in December.
2. This hand-lettering art print by Lizzie Owen
Hermione can be wise beyond her years and although she's a Gryffindor at heart she is still an honourary Ravenclaw in my eyes- she just needs to sort out her priorities. This is just one of loads of Harry Potter and magical themed prints Lizzie has created!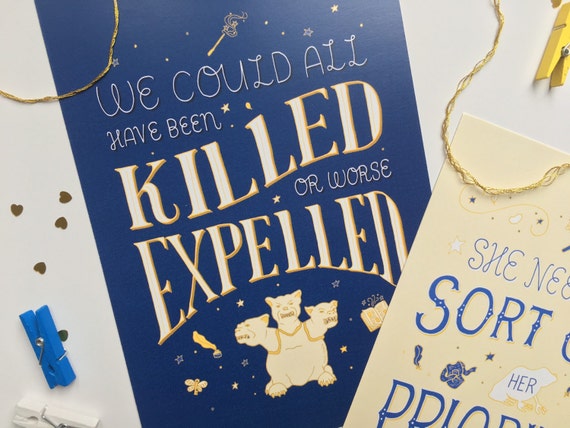 3. If you're a Ravenclaw who isn't just book-smart, but look-smart then you could take that suit to a new level with these Ravenclaw cufflinks.
4. Or set off that Yule-Ball dress with some Ravenclaw earrings from Wizarding Wares.
5. A Ticket to Hogwarts
This is now sitting proudly on my wall. It's part of my Primark haul and it is the one thing that looks to me like it could have cost 4 times as much from other stores. It looks really great in my office next to my…
6. Ravenclaw House Crest Print
From the store of Mina Lima, the people responsible for the graphics for all the Harry Potter movies. This particular one is 256/1000 so, get them while they're still around!
7. This hand-turned pen, by Mr Geoffrey Schild.
Every Ravenclaw needs a good writing instrument.  Based in Switzerland, he lovingly produces these pens to order and can alter everything from the colour and shape to the finish of the nib. When a quill is just too flashy!
8. Harry Potter Trivial Pursuit
For those who love a quiz, love Harry Potter and know ALL the answers. I had never won a game of Trivial Pursuit until they brought out the Wizarding World of Harry Potter version. Now I can feel smarter, too!
9. Ravenclaw Hoodie
Okay, I lied, two things from the studio tour! BUT, this hoodie has lasted me for about 7 or 8 years now. The colour and print is still bright, it's comfortable, I literally live in it… It's actually reasonably priced? It's great. Ten points to Ravenclaw!
10. Last but not least, BOOKS. Duh!
If you're around my area then head to The Big Comfy Bookshop. They have books to buy there. They get a special mention as that's where I will be hosting the Harry Potter discussion group next year (so watch this space!)
These thoughts are unsponsored and entirely my own. If you want to contact me for a sponsored post please email me here.